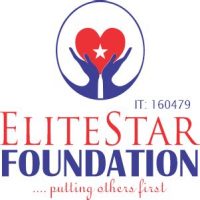 Elite Star Foundation is a child-centered non-profit organization established in 2021 in Nigeria to promote and protect the rights and well-being of every child in the society. The Elite Star Foundation is working towards creating a safe and happy childhood for every Nigerian child, a childhood free from all forms of abuses and neglects.
We are recruiting to fill the position below:
Job Title: Volunteer (Field Officer)
Locations: Abuja and Niger
Employment Type: Volunteer
Job Description
We are in need of a staff that will work as a Volunteer Field Officer at Elite Star Foundation. Our Ideal candidate will have to:
Lead the implementation of sensitization and awareness creation activities at different levels; this includes proposing sensitization and awareness initiatives for the organization;
Brainstorm with team members at all stages of plan formulation of sensitization and awareness activities.
Represent in sensitization and awareness campaigns at provincial and build similar relationships.
Prepare and produce clear and quality reports (narrative) that demonstrates accountability.
Necessary Skills
Computer skills.
Knowledge of our child safeguard policy
Good knowledge of our programmes.
Demonstrates integrity by modeling our values and ethical standards.
Promotes the vision, mission, and strategic goals of Elite Star Foundation
Treats all people fairly without favoritism.
Great attention to detail
Strong interpersonal skills
Ability to give constructive feedback
Conceptual creative abilities.
Ability to create stories.
Benefits
Since Elite Star Foundation is non-profit, this is a volunteer position without financial compensation. We treat our volunteers well:
You'll receive Elite Star Foundation T-shirts after three months
You'll be invited to take part in any Elite Star Foundation activities
You'll enhance your skills while supporting a cause you care about
You'll gain samples of work & references to add to your portfolio
You'll directly impact a community organization on the ground.
You'll get a certificate after three months.
Application Closing Date
20th June, 2022.
Method of Application
Interested and qualified candidates should send their Applications and CV to: [email protected] using the Job Title as the subject of the email.