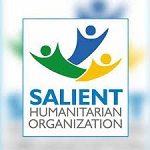 Salient Humanitarian Organization (SHO) is a non-profit and Non-Governmental Organization (NGO), Registered in Nigeria with Corporate affairs commission and other government agencies. Our objective is to alleviate poverty within the humanitarian sphere through food security, women empowerment through livelihood programs. Our active humanitarian intervention programs include but are not limited to providing Shelter/CCCM/NFI, warehousing & Logistics, health care and Protection (Monitoring, Referrals, GBV, SGBV, Child protection RFL referrals).
We are recruiting to fill the position below:
Job Title: Site / Community Facilitator
Location: Maiduguri, Borno
Starting Date: July, 2022
Duration of contract: 10 Months (Extendable)
Reporting to: Project Manager
General Context of the Job / Project
This position falls under the direct management of THRIVE Project Manager
SHO's Site / Community Facilitator will play an integral part of the camp management team on the THRIVE Project of ensuring that all inhabitants of the community are living a safe, secured and dignified life. Under the Direct Line Supervision of the Project Manager, the Site Facilitator is responsible for the collecting of quantitative, Qualitative and Spatial Data using Kobo and other tools.
He/She will facilitate focus groups discussions and key informant interviews and conduct HH, Individuals, and Community level questionnaires in order to feed the project Database at every stage of the Project.ee
Core Functions / Responsibilities
Your main duties and responsibilities will be:
Any other tasks needed to support the THRIVE team members, to inform CCCM activities and to ensure the success of the SHO THRIVE objectives.
Reporting to supervision made by the database assistant, by participating in Site Facilitating/ assessment/ tracking/ reporting tools design and sharing processes implemented by SHO.
Responsible for conducting interview and collect data from respondents at the household, individual and community level using Kobo on smart phones.
Responsible for ensuring that respondent are accurately targeted in accordance with direction given by supervisors, and that data meets minimum quality standards.
Responsible for identifying and organizing respondents for focus group discussion, facilitating or co-facilitating the discussion and recording results.
The Site Facilitator will be responsible for feeding camp site mapping and to provide updated information on services, facilities, population through GPS location.
Responsible for registration at the targeted locations, liaise and meet with Assessment Agencies and partners for data sharing purpose/harmonization of processes Essential Qualifications and Experience.
Other duties assigned by the line manager.
Job Educational Qualification
Completion of SSCE is a minimum qualification. National Diploma, University Degree and a higher qualification in Database, Humanities, Social Studies, or another relevant studies.
Minimum one year of experience in international and/or NNGO; ideally involved in the direct implementation of field level humanitarian assistance to refugees, IDPs or host communities.
Experience in community services, women empowerment, youth activities, protection, distribution or registration.
Promote and share ideas for improvement of the support function
Essential Knowledge and Skills:
Extensive knowledge of Nigerian displacement context.
Excellent interpersonal and team-playing skills.
Ability to work in a multi-cultural environment.
Commitment to humanitarian principles and values.
Preferred Experience:
Proven professional experience working with NGO at a relevant position e.g. Enumerator, Site Facilitator, Field and Community worker.
Experience working for NGOs and/ or in Camp setting is an added advantage.
Positive attitude and a willingness to learn
Written and spoken fluency in English plus Hausa and/or Kanuri a must; additional fluency in other local languages an added advantage
Ability and Willingness to follow instructions.
Application Closing Date
2nd August, 2022.
How to Apply
Interested and qualified candidates should send their Applications (Letter of motivation and CV in a single PDF file) to: [email protected] using the Job Title as the subject of the mail.
Or
Submit in person to:
The HR,
Salient Humanitarian Organization,
Behind NTA Quarters, Off Damboa Road,
Old GRA, Maiduguri,
Borno State.
Note
Please clearly indicate the Job position on the envelope.
Salient reserves the right to close the application before deadline, if the required number of candidates is attained.
Candidates will be responsible for his/her own travel, accommodation and feeding during the recruitment process.
Only shortlisted candidates will be contacted.