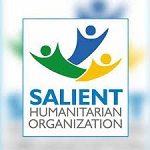 Salient Humanitarian Organization (SHO) is a non-profit and Non-Governmental Organization (NGO), Registered in Nigeria with Corporate affairs commission and other government agencies. Our objective is to alleviate poverty within the humanitarian sphere through food security, women empowerment through livelihood programs. Our active humanitarian intervention programs include but are not limited to providing Shelter/CCCM/NFI, warehousing & Logistics, health care and Protection (Monitoring, Referrals, GBV, SGBV, Child protection RFL referrals).
We are recruiting to fill the position below:
Job Title: Shelter / Water, Sanitation & Hygiene (WASH) Officer
Location: Maiduguri, Borno
Employment Type: Full-time
Starting Date: July, 2022
Duration of contract: 10 Months (Extendable)
Reporting to: Project Manager
Tasks and Responsibilities
Contribute to the development of and implement and monitor administrative and operational activities of approved Shelter/WASH activities for the THRIVE Project.
Monitor and supervise the Shelter/WASH field assistants responsible for the execution of project components in the targeted locations.
Track and follow up on all technical aspects of SHO construction work (Shelter and WASH) including but not limited to assessment, design, Bill of Quantities (BoQ) calculation, tendering, technical specification, and monitoring while liaising with partner organizations and governmental authorities to facilitate cooperation and effectiveness.
Assist with and contribute technical inputs for the development and implementation of Shelter/WASH design standards, monitoring mechanisms, quality control & assurance mechanisms, and construction specifications in respective technical field.
Compare the actual working progress with the work plan agreed with the donor and recommend the required action for successful completion as per the work plan.
Conduct joint verification site visits and check that projects are completed to a satisfactory standard before any payments are authorized.
Ensure up to date and accurate record keeping, including Shelter/WASH activity inspections, audits, actual quantities maintained and drawings, and ensure variations and addendums are issued correctly.
Participate in all relevant forums, including cluster coordination meetings, inter-cluster meetings and partner meetings in the THRIVE Project implementation.
Support the implementation of small scale mitigation & site development work in coordination with the CCCM team, map safety risks and other hazards at site level and surrounding communities when feasible.
Maintain appropriate links with national/local authorities, state institutions, civil society and other relevant stakeholders, including effective coordination and information exchange with them.
Assist with the development of SHO Shelter/WASH standard operating procedures as well as other strategic documents.
Participate in resource mobilization efforts as well as meeting donor reporting requirements and provide Shelter/WASH technical representation for a given area in meetings with donors, governmental entities, and other organizations.
Perform such other duties as may be assigned.
Preferred Qualification & Experience
National Diploma, HND, University Degree and a higher qualification in Engineering, Architecture, Environment, Urban and Regional Planning, Social Sciences, or any other relevant studies.
Minimum of 2 years of relevant experience in international and/or NNGO; ideally involved in the direct implementation of field level humanitarian assistance to refugees, IDPs or host communities.
Promote and share ideas for improvement of the support function
Experience working for NGOs and/ or in Camp setting is a must.
Experience Working in the Northeast Nigeria an added advantage.
Positive attitude and a willingness to learn
Written and spoken fluency in English and any of Hausa or Kanuri a must; additional fluency in other local languages an added advantage.
Ability and Willingness to follow instructions.
Essential knowledge and skills:
Extensive knowledge of Nigerian displacement context.
Excellent communication skills.
Excellent interpersonal and team-playing skills.
Highly flexible, with the ability to use initiative.
Ability to work in a multi-cultural environment.
Commitment to humanitarian principles and values.
Understanding of gender, protection and human rights.
Application Closing Date
2nd August, 2022.
Method of Application
Interested and qualified candidates should please submit their Applications (Letter of motivation and CV in a single PDF file) to: [email protected] using the Job Title as subject of the e-mail.
Or
Submit hard copies to:
The HR,
Salient Humanitarian Organization,
Behind NTA Quarters, Off Damboa Road,
Old GRA, Maiduguri,
Borno State – Nigeria.
Note
Please clearly indicate the Job position on the envelope.
Only shortlisted candidates will be contacted.
Salient reserves the right to close the application before deadline, if the required number of candidates is attained.
Candidates will be responsible for his/her own travel, accommodation and feeding during the recruitment process;