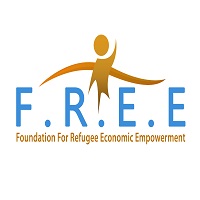 Foundation for Refugee Economic Empowerment (FREE) is a purpose-driven humanitarian and development non-governmental organization that implements a range of portfolio through purposeful partnerships. FREE builds bridges for improved lives for people affected by calamity. Our mission is to support people affected by natural and man-made disasters, especially those who have suffered displacement to be able to get back their lives and livelihoods in no time.We work also with underserved communities to ensure that they have basic facilities and services. Over the past 7 years, working closely with government, civil society and private sector partners, FREE has reached more than 1,000,000 beneficiaries across Nigeria with assistance in Water Sanitation and Hygiene (WASH), Food and Livelihood Assistance, Health and Nutrition Support, Education in emergency, among others.
Experience 2 years
Location Abuja
ABOUT THE FOUNDATION FOR REFUGEE ECONOMIC EMPOWERMENT
The Foundation for Refugee Economic Empowerment also known as the FREE Foundation is a Nigerian local humanitarian organization dedicated to helping communities in Nigeria. The Foundation for Refugee Economic Empowerment implements projects in Nigeria since 2014. At present, the Foundation for Refugee Economic Empowerment portfolio spans 4 core business lines: Water, Sanitation and Hygiene (WASH), Education, Food Security and Livelihood, and Health. The FREE implements its programs all over northeast and northwest Nigeria reaching a population of more than 1 million people. The Foundation for Refugee Economic Empowerment has support offices in the UK, with its northeast Nigeria office based in Maiduguri.
The FREE continuously seeks out opportunities for new funding to increase its portfolio for the affected Nigerian population. The FREE is seeking an experienced proposal writer(s) to support its programme in proposal development for upcoming opportunities on case-by-case basis. The role will report to the Response Coordinator through the Programme M&E Officer.
Consultancy Description
The consultant will work closely with the Program Development team under the direct supervision of the Programme M&E Officer. The proposal writer will be responsible for the development of high-value or complex proposals or bids. S/he will lead and write the proposal with input from other program development team.
Key responsibilities:
Participate in proposal design workshops, meetings with technical team and key staff from the field and the head offices.
Write quality donor ready proposals and submit to Programme M&E Officer within agreed timelines.
Working closely with the Program Development team, finalize proposal package, review all components i.e logic frame, timeframe..etc and ensure inclusion and consistency of all necessary documents such as Monitoring and Evaluation plans, detailed budgets, assessment reports, etc.
 Ensure that all quality standards are incorporated into all proposals.
 Provide mentoring to the team on proposal development.
Expected Deliverables
The key expected deliverables for the Proposal writer included but not limited to the following:
High quality written concept notes and proposals for institutional donors.
Time frame
Six months, with possibility of extension
Required Qualification:
Strong understanding of the Nigeria context
Previous experience writing successful large scale winning proposals for protracted humanitarian context
Previous experience writing successful proposal for the institutional and government donors.
Good understanding of donor guidelines and priorities.
Ability to work independently with less supervision
Fluency in English (both verbal and written), Arabic and/or French a Plus
Previous experience working with remote teams
Good attention to details
Good M&E experience
Ability to work with tight deadlines
Method of Application
This vacancy is open to both organizations and freelance consultants. Interested applicants should indicate their expression of interest by submitting the following documents through the email: freengprocurement@gmail.com with Proposal Writing Programme Support Consultant in the email subject line. Only shortlisted applicants will be contacted.
Detailed copy of resume highlighting experience in successful proposal writing.
Expression of interest letter indicating their interest and how they fit the role, the letter should include a list of past successful proposals and concept notes submitted highlighting the year, budget, sectors, and donors.
The letter should also include name(s) and contact address of professional referee(s) that can verify the information submitted.
Any other documents to strengthen your application, such as written samples of concept notes and proposals written by you or a team you were a part of.