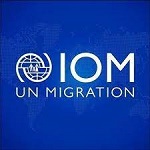 II. Organizational Context and Scope
The International Organization for Migration (IOM) is committed to the principle that humane and orderly migration benefits migrants and society. As the leading UN Migration Agency, IOM acts with its partners in the international community to: assist in meeting the growing operational challenges of migration management; advance understanding of migration issues; encourage social and economic development through migration, and uphold the human dignity and well-being of migrants.
The proportion of foreign workers in the employed population in Gulf countries is among the highest in the world with an average of 70.4 %, and account for over 10% of all migrants globally[1]. To support safe and regular labour migration to the region, IOM works closely with Governments and other stakeholders to strengthen labour-related processes and policies that ultimately benefit foreign workers, Governments, employers, recruitment agencies, and other actors.
The "Labour Mobility & Social Inclusion" (LMI) Unit at IOM-Bahrain is responsible for supporting the strengthening of labour migration and employment conditions in the Kingdom of Saudi Arabia, the Kingdom of Bahrain and the United Arab Emirates. This includes but is not limited to ethical recruitment, skilling and training, engagement with employers, labour policy reforms as well as advocating for programmes for migrant workers and employers. Within this scope, IOM-Bahrain hosts the Comprehensive Information & Orientation Programme (CIOP) Hub, which has a mandate to serve IOM missions around the world in advocating and developing tailored and harmonized orientation programmes for labour migration.
Under the overall supervision of the Chief of Mission (CoM) of IOM-Bahrain and the direct supervision of the Head of LMI, the successful candidate will be accountable and responsible for coordinating relevant programmatic activities under the LMI Unit in IOM-Bahrain, focusing largely on orientation programmes for labour migration. The successful candidate will be based in IOM-Bahrain, with frequent travel abroad.
III. Responsibilities and Accountabilities
The Project Officer (LMI) will be responsible for the following:
Coordinate the activities of the CIOP Hub, including the development and monitoring of project workplans in close coordination with other members of the CIOP Hub.
Identify and lead on project development for the CIOP Hub, putting together concept notes, budgets, proposals and relevant templates, in line with IOM guidelines.
Act as a key liaison point with IOM missions and IOM Regional Offices to effectively coordinate activities as well as fulfil all monitoring and reporting requirements.
Contribute to knowledge management of the CIOP Hub, along with sharing insights on orientation programming with IOM globally, through the organization of webinars and maintenance of a dynamic Microsoft Teams platform.
Coordinate and oversee LMI-related project activities that advocate for migrant training, orientation and skills development, including the CIOP pilot under the Abu Dhabi Dialogue.
Support the Head of LMI and the Senior Regional Thematic Specialist for LMI to identify opportunities to further enhance the LMI portfolio, providing inputs for project proposals as well as identifying possible partners and donors.
Undertake travel on authorized duty (TDYs) as required.
Perform such other duties that may be assigned.
IV. Required Qualifications and Experience
Education
Master's degree in Political or Social Sciences, Migration Studies International Relations or a related degree from an accredited academic institution with two years of relevant professional experience; or
University degree in the above fields with four years of relevant professional experience.
Experience
Professional experience in project coordination, preferably within the context of migration or sustainable development;
Experience in a thematic area relevant to labour migration;
Experience in liaising with governmental authorities, other national/international institutions and NGOs;
Experience working in the Gulf is considered a strong asset.
Skills
Excellent organizational and coordination skills.
Demonstrated ability to work under time pressure and deliver work of outstanding ability.
Meticulous and very attentive to detail and;
Knowledge of monitoring and evaluation.
V. Languages
Required: For all applicants, fluency in English and Arabic is required.
Desirable: Working knowledge of other UN languages.
VI. Competencies[2]
The incumbent is expected to demonstrate the following values and competencies:
Values
Inclusion and respect for diversity: respects and promotes individual and cultural differences; encourages diversity and inclusion wherever possible.
Integrity and transparency: maintains high ethical standards and acts in a manner consistent with organizational principles/rules and standards of conduct.
Professionalism: demonstrates ability to work in a composed, competent and committed manner and exercises careful judgment in meeting day-to-day challenges.
Core Competencies – behavioural indicators level 2
Teamwork: develops and promotes effective collaboration within and across units to achieve shared goals and optimize results.
Delivering results: produces and delivers quality results in a service-oriented and timely manner; is action oriented and committed to achieving agreed outcomes.
Managing and sharing knowledge: continuously seeks to learn, share knowledge and innovate.
Accountability: takes ownership for achieving the Organization's priorities and assumes responsibility for own action and delegated work.
Communication: encourages and contributes to clear and open communication; explains complex matters in an informative, inspiring and motivational way.
Managerial Competencies – behavioural indicators level 2
Leadership: provides a clear sense of direction, leads by example and demonstrates the ability to carry out the organization's vision; assists others to realize and develop their potential.
Empowering others & building trust: creates an atmosphere of trust and an enabling environment where staff can contribute their best and develop their potential.
Strategic thinking and vision: works strategically to realize the Organization's goals and communicates a clear strategic direction.
[1] ILO, Labour Migration, Available at: https://www.ilo.org/beirut/areasofwork/labour-migration/lang–en/index.htm
[2] Competencies and respective levels should be drawn from the Competency Framework of the Organization.
How to apply
The cover letter along with the applicant's CV and Cover Letter should be submitted to [email protected] on or before Thursday August 11th. Please write "Application to Project Officer Vacancy" in the subject of your application email.
In addition, please note that only the applications which would have been duly done, and which would have been submitted and received through the email within the announced time frame would be valid & considered for the announced vacancy.
Kindly note that for efficiency reasons, only shortlisted candidates will be contacted.
Successful applicants will be invited for interviews before final selection.