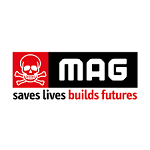 The name Mines Advisory Group was established in the early days of the organisation, when it was decided that MAG's initial role would be to draw the attention of the international community towards issues relating to mines and UXO. Between 1990 and 1991, the McGrath brothers carried out two assessment missions to Afghanistan and Cambodia, hoping that their findings would mobilise governments and international agencies into more purposeful action. In 1990, war-ravaged Afghanistan was a country of extreme disruption and immense suffering. Afghan refugees returning from Pakistan were being directed back to villages still contaminated by landmines and as a result were being killed or horrifically maimed. One young Afghan boy left a particular impression on Rae McGrath. "His small body had been absolutely shattered by a Soviet-laid POM-Z fragmentation mine," he remembers. "When we were at the hospital, his family urged us to take his photograph to show the world the horrific impact of these weapons, which we did." The boy died from his injuries hours after. His photograph was later used by MAG to highlight the dangers and deadly consequences of mines.
The starting salary package for this position is £36,796 GBP/ approx.  USD $45,738 per annum, including all allowances
About the Nigeria programme:
MAG has been responding to the Nigeria crisis since 2015 working to support and protect conflict affected communities from explosive remnants of war, so that people can restore and pursue their livelihoods in a safe and secure environment, free from fear of death or injury.
About the role:
This is an exciting opportunity to join our team and play a key role in the development of our Nigeria programme. Reporting to the Country Director, the Programme Officer will have responsibilities for leading on and managing the process of proposal development, report writing, grant management and assisting the Country Director to meet contractual requirements. You will work closely with both colleagues in MAG's Manchester office and MAG's operational staff in Nigeria, managing and coordinating programme information and data to accurately draft proposals, reports and assist the Country Director to monitor contractual compliance. You will also work closely with the Country Director to create and maintain relationships with key stakeholders in Nigeria including donors, partners and other parties as required.
About you:
The successful candidate will need experience working in international aid or development, ideally overseas in a conflict / post conflict environment and be able to demonstrate the ability to work independently with minimum supervision. The ability to work in dynamic teams of national and international staff and produce written material of the highest quality is essential. It is also important that candidate is self-motivated, flexible and has an enthusiastic approach to work. The successful candidate should also have experience leading on the coordination and writing of reports and leading on proposal development for a range of institutional donors and have excellent literacy, numeracy and IT skills.
Benefits:
MAG staff are rewarded with generous benefits:
• Salary: The starting salary package for this position is £36,796 per annum including all allowances and this increases with service.
• Accommodation: MAG will provide accommodation in-country.
• Leave: We recognise our staff work hard and need the appropriate time out to stay motivated. You'll have a minimum of eight weeks out of the programme per year
• Flights: MAG provides three international flights home per year
• Insurance: All international staff are automatically covered by MAG's comprehensive insurance package including: Personal accident and medical expenses insurance; Death by natural causes insurance and access to 24-hour medical assistance including evacuation and repatriation.
Please see the candidate information sheet in the application pack for further details on these benefits.
Please note that as part of MAG's commitment to safeguarding, this post is subject to background checks before an offer of employment is confirmed. For more information on MAG's approach to safeguarding and background checks, please click here. You can also find more information in the candidate information pack, available through the link below.
MAG is committed to the principles of diversity, equality and inclusion. If you think you would be suited to one of our roles we would welcome your application regardless of your background. We strive to provide an inclusive and supportive working environment where all employees feel respected and supported in fulfilling their potential.
Method of Application
For further information about this opportunity, as well as the application form, please download the candidate information pack, below:
MAG – Programme Officer, Nigeria Candidate Information Pack
Please return the Application form to [email protected] by the closing date of Sunday 21st August. Please advise us of any dates that you would not be available for interview if you were shortlisted.