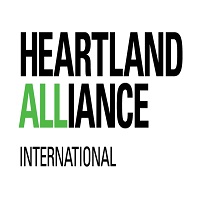 Heartland Alliance Ltd-Gte is a service-based human rights organization with a global heritage that is established under the laws of Nigeria with a mission to engage as a lead and global player with a variety of stakeholders to create access to opportunities and resources for comprehensive healthcare and social and economic justice for all.
Project:  HI360 GF National Aligned HIV/AIDS Initiative (NAHI) grant
Job Title: Program Assistant
Reports to:  Project Coordinator, Harm Reduction Services
Location(s): Akwa-Ibom, Cross River, Lagos
Contract duration: 1 year  
Job Summary
Under the supervision of the Project Coordinator of Harm Reduction Services, the Project Assistant, Harm Reduction Services will work on a multidisciplinary health team to provide a broad range of psychosocial and mental health-related supports to People Who Inject Drugs (PWID) in accordance with Heartland Alliance LTD/GTE (HALG) Nigeria's FHI360 NAHI harm reduction program goals and objectives.
Essential Duties and Responsibilities
Active engagement with people who use drugs (including alcohol) and individuals who are living with, or at risk for, HIV/hepatitis C using a collaborative, person-centered approach grounded in harm reduction and trauma-informed practice.
Use brief assessment, active listening, and crisis response skills to help meet immediate, basic needs and make appropriate referrals to other health and support services.
Provide outreach-based supports in the community including accompaniment to appointments, home visits, eviction prevention, and advocacy in accordance with the established client care plans.
Promote and monitor linkage between community and OSS-based harm reduction services for PWID (e.g., post-GBV care, MHPSS, Legal support, abscess management).
Distribute and recover harm reduction supplies, and provide education, support for cohort sessions, safer drug use, safer sex, HIV, hepatitis C, and STIs management.
Conduct and interpret routine urinalysis test outcomes and liaise with clinic team for possible enrollment of PWID into HALG Cohort Sessions and/or MAT program.
Work in collaboration with partner agencies to provide a continuum of services.
Maintain both paper and electronic confidential files/ documentations, as required.
Maintain the safety of all program spaces by following protocols related to violence prevention and critical incidents (such as overdose and other medical emergencies).
Engage in planning, evaluation, and program development as directed.
Liaise with HALG program, clinic, and M&E leads to collect, prepare, and public relevant program reports, data, and best-practices.
Perform other duties as assigned.
Qualifications
To perform this job successfully, an individual must be able to perform each essential duty satisfactorily. The requirements listed below are representative of the knowledge, skill, and/or competency required. Reasonable accommodations may be made to enable individuals with disabilities to perform the essential functions.
A degree in mental health, or rehabilitation services (Psychology, Mental Health & Addiction Counseling, Rehabilitation Sciences).
Minimum of two years relevant work experience in addiction management, and in the delivery of MHPSS services on outpatient or inpatient basis.
Registration with relevant professional body, will be an added advantage.
Preferred Skills:
Demonstrated skills, experience, and knowledge in the areas of harm reduction principles and practices.
Demonstrated ability to establish rapport, provide support and advocate for a diverse range of clientele including individuals who are actively using substances and living with significant health challenges.
Direct service delivery and advocacy experience with community-based systems (financial aid, housing, health care, justice system, etc).
Demonstrated skills, experience, and knowledge in the areas of safer drug use, addictions, safer sex, sex work, HIV/AIDS, hepatitis C, mental health, etc.
Demonstrated knowledge of social justice, health promotion and public health approaches and models of social support and health care.
Experience managing hostile interactions, utilizing non-violent communication and ability to problem solve with creativity, flexibility, assertiveness, and a cool head in dealing with complex issues.
Excellent communication and interpersonal skills and demonstrated commitment to working within a collaborative, team approach.
Demonstrated time management and personal organization skills to effectively support individuals within a case management model.
Qualities:
Confidentiality: Capable of maintaining the highest degree of confidentiality regarding client and organizational information.
Client Centered: Capable of working with individuals to identify needs and priorities and facilitate any
positive change.
Empathy: Does not use homophobic, trans-phobic, sexist, or racist language, or language demeaning to people who use illegal drugs and/or sex workers.
Motivated: Capable of taking the initiative and following a project through to completion.
Organized: Capable of prioritizing needs, goals, and objectives including, maintaining all required
information/data for ease of access for staff and clients.
Problem Solver: Capable of thinking on the spot to resolve problem situations as they arise including having the ability to assess relevant information, identify a range of options, and make recommendations for resolution of problem situations.
Language Skills:
Excellent oral and written English communication skills.
Knowledge of Local Language preferred.
Demonstrated competency in public speaking.
Computer Skills:
Proficiency in the use of Microsoft Office, Internet Explorer, Outlook/Exchange, Windows operating systems, Power Point.
Other software routinely used by Heartland Alliance.
Work Environment:
The noise level in the work environment is usually moderate.
The employee will be required to co-locate with local partners usually in the same office.
The employee is required to travel regularly to often insecure and limited-resource environments.
**Note: Applicants should specify their desired location on the subject of application.  Any application without a specified location will not be considered**
Method of Application
Method of Application
Interested and qualified candidates should send their CV and Cover Letter to: [email protected] using the Job Title as the subject of the email.
Note: That this roles is contingent on award of the programme.