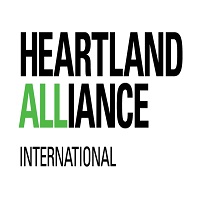 Heartland Alliance Ltd-Gte is a service-based human rights organization with a global heritage that is established under the laws of Nigeria with a mission to engage as a lead and global player with a variety of stakeholders to create access to opportunities and resources for comprehensive healthcare and social and economic justice for all.
Project: FHI360 GF National Aligned HIV/AIDS Initiative (NAHI) grant
Job Title: Monitoring & Evaluation Volunteer (MEV)  
Reports to:  Associate Manager, Monitoring & Evaluation 
Location(s): Akwa-Ibom
Employment Type: Part Time (Volunteer)
Contract duration: 1 year  
Job Summary
The position holder will support the harm reduction gap-filling activities under the "Key Population Community HIV Services Action and Response" (KP-CARE 1). The Monitoring and Evaluation Volunteer under the technical guidance of the Associate Manager, Montoring & Evaluation will ensure day-to-day data gathering, collation and synthesis of data emanating from the Harm reduction implementation in the State.
Liaise with the clinician/FSP and ensure proper documentation for program participants enrolment and service provision.
Maintain a systematic filing system for all individual medical records associated with harm reduction intervention to guarantee efficient retrieval of clients' records – electronic and paper-based records.
Work with clinician, FSP and any other primary service provider to resolve issues relating with documentation of service provision, inconsistencies, or missing data.
Ensure that only evidence-based data is correctly and promptly entered on the electronic medical records system, DMEL and any other platform required. This includes entry of both summary and client level data (as applicable) from source documents into summary registers or databases as required by the data entry interface.
Generate summary reports and respond to inquiries regarding electronic data and any other issues.
Promote the security and confidentiality of client information on various source documents and/or electronic medical records system (databases).
Assist in establishing and maintaining an effective and efficient records management system with good audit trail.
In collaboration with the zonal/state M&E team, conduct desk review including collation, correction and update of incomplete entries/ records and transfer into the electronic platform.
Provide insight to the health informatics team on continuous improvement of the harm reduction module in the electronic medical records system.
Perform any other M&E-related tasks assigned by the Associate Manager, Monitoring & Evaluation.
Qualifications
To perform this job successfully, an individual must be able to perform each essential duty satisfactorily. The requirements listed below are representative of the knowledge, skill, and/or competency required. Reasonable accommodations may be made to enable individuals with disabilities to perform the essential functions.
Education and/or Experience:
A degree in Social Sciences, Environmental Sciences or Public Health.
Prior experience with working with an NGO or in a data collection activity as a Data Entry Clerk.
Familiarity with M&E and programming for HIV response project is an added advantage.
Demonstrate ability to write reports/ conduct data analysis.
Experience with an electronic medical records system especially LAMIS is an advantage.
Good knowledge of Microsoft office packages especially word, excel and power point.
Speaks Basic English and the language of the area covered.
Other Competencies:
Problem Solving Skills – Identifies and resolves problems in a timely manner, solving situations; uses reason even when dealing with emotional topics.
Interpersonal Skills – Focuses on solving conflict, not blaming; maintains confidentiality; listens to others without interrupting; keeps emotions under control; remains open to others' ideas and tries new things.
Oral Communication – Speaks clearly and persuasively in positive or negative situations; listens and gets clarification; Responds well to questions; demonstrates group presentation skills; speaks the local language of the people.
Written Communication – Writes clearly and informatively.
Teamwork – Balances team and individual responsibilities
Diversity – Shows respect and sensitivity for cultural differences; educates others on the value of diversity; promotes a harassment-free environment.
Ethics – Treats people with respect; keeps commitments; inspires the trust of others; works with integrity and ethics; upholds organizational values.
Judgment – Displays willingness to make decisions.
Motivation – Sets and achieves challenging goals; demonstrates persistence and overcomes obstacles.
Work Environment:
The noise level in the work environment is usually moderate.
The employee is required to travel regularly to often insecure and limited-resource environments.
Method of Application
Method of Application
Interested and qualified candidates should send their CV and Cover Letter to: [email protected] using the Job Title as the subject of the email.
Note: That this roles is contingent on award of the programme.