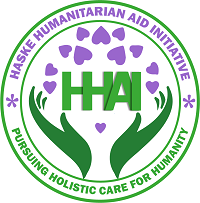 HASKE HUMANITARIAN AID INITIATIVE (HHAI) is a women and youth driven organization established in the year 2022, and since its establishment to date, the organization has striven to continuously interface and engage with key stakeholders at all level to support in addressing gaps in the health sector, improve nutrition indices, and women's agency, health, and socio-economic empowerment from the grassroot level which will provide an enabling environment and a robust healthy community. We strive for positive change in the way the community response to the health and socio-economic wellbeing of women, young adolescents, and children under 5 and to achieve an immediate and lasting change in their lives by providing the enabling environment. Across all our work, we pursue several core values: Honesty. Accountability, ambition, professionalism,
Job title: LGAs Supervisor
Location: Adamawa and Bauchi State
Slots: 2
Application Deadline: 14th November, 2022
RESPONSIBILITY
This position will be responsible for supervision of all implemented project activities in the target communities in the LGA.
The Supervisor would manage community and LGA advocacy activities, interface with Field Officers at the LGA levels, and ensure quality implementation of all PROSELL activities in the LGA.
Key Responsibilities
Lead in the mobilisation, sensitization, and orientation with communities' local leadership, and traditional institutions on all project activities.
Develop work plan for LGA PROSELL Team and submit report of activities on monthly basis.
Coordinate PROSELL LGA Team for efficient delivery of project activities.
Provide technical supports to LGA Field Officers.
Be responsible for optimal performance of LGA Teams in the areas of project implementation, accountability, responsiveness, and innovativeness.
Develop innovative approach towards ensuring active partnership of Local Government Authority and project communities in all project activities and programmes.
Link PROSELL beneficiaries to government programmes at the LGA level.
Implement an effective communication system among all stakeholders at the LGA level.
Provide training and coaching supports to LGA Team members, communities and relevant LGA personnel.
Participate in any other project related activities according to project needs
Requirements, Skills and Competence
HND or University Degree in relevant field with at least 1 year experience as a Field Officer on the
At least 1 year cognate experience in development work at community level.
Computer literacy and ability to work well on MS Office packages.
Experience in community mobilization, advocacy, and conflict management.
Experience using digital tools for data collection and survey activities.
Good training and facilitation skills with a wide variety of groups having diverse experiences, backgrounds, skills, and educational levels.
Living in community and speaks the local language and Hausa
Respected by local people and leaders and known to be conscientious
Understands the community/LGA agricultural markets, geographic terrain and environment
Ability to work in diverse cultural settings.
Method of Application
Interested and qualified candidates should send : https://bit.ly/3FOQfjK  to apply online> OR send their CV and Cover Letter as a single PDF document to haskehumanitarianaidinitiative@gmail.com using the job Title as the subject of the mail.
NOTE:
HHAI is an equal opportunity employer, committed to diversity as such,
women are strongly encouraged to apply
Please note that only shortlisted candidate will be contacted