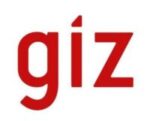 The Deutsche Gesellschaft fur Internationale Zusammenarbeit (GIZ) GmbH (German Agency for International Cooperation) is an international enterprise owned by the German Federal government, operating in many fields across more than 130 countries.
In Nigeria, GIZ's portfolio includes among others, a programme to support the Economic Community of West African States (ECOWAS) in its regional integration goals. The programme aims to strengthen sector-specific capacities in the areas of Peace and Security, Customs and Trade as weir as Strategic Management and Organizational Development in the ECOWAS Commission.
We are recruiting to fill the position below:
Job Title: Junior Communications and Visibility Advisor
VA No: 073
Location: Abuja
Organization: GIZ Nigeria, SEDIN
Background
As a service provider in the field of international cooperation for sustainable development and international education work, we are dedicated to shaping a future worth living around the world. GIZ has over 50 years of experience in a wide variety of areas, including economic development and employment promotion, energy and the environment, and peace and security. The diverse expertise of our federal enterprise is in demand around the globe – from the German Government, European Union institutions, the United Nations, the private sector and governments of other countries. We work with businesses, civil society actors and research institutions, fostering successful interaction between development policy and other policy fields and areas of activity. Our main commissioning party is the German Federal Ministry for Economic Cooperation and Development (BMZ). The registered offices of GIZ are in Bonn and Eschborn. Our approximately 23,500 employees, almost 70 percent of whom are national personnel, work in a round 120 countries (July 2020)
GIZ has worked in Nigeria since 1974. From 2004, GIZ has maintained a country office in the capital city Abuja. Currently 361 national and 66 international employees, 19 regional staff, 4 integrated specialists and 3 development workers are working in the country (June 2020).
The Project
The "Pro-poor Growth and Promotion of Employment in Nigeria" Program – SEDIN responds to the high un- and underemployment in Nigeria. Acknowledging the central role of micro, small and medium-sized enterprises (MSMEs) in employment creation, SEDIN aims at improving the employment and income situation of MSMEs by improving the business enabling environment, increasing access to financial and business services, enhancing entrepreneurial and management skills, and strengthening MSME in selected value chains The "Nigeria Competitiveness Project" is an EU-financed component that focuses on selected value chains in Ogun, Oyo, Lagos, Plateau and Kaduna.
The "Migration and Reintegration" component aims at improving the employment situation of returning and potential migrants, with a special focus on Lagos and Edo States. Overall, the SEDIN programme is implemented in 11 states: Abia, Edo, Kaduna, Kano, Kebbi, Lagos, Niger, Plateau, Ogun, Oyo and the FCT.
Responsibilities & Tasks
Responsibilities:
The Junior Advisor is responsible to ensure effective communication with all programme stakeholders which include beneficiaries, local government, donors, and wider international development community.
The Junior Advisor is expected to bring a technical understanding of functionality and issues surrounding communications strategies for medium-sized organisations.
The preferred candidate will contribute positively to SEDIN's overall communications efforts and strategic direction through the regular production of a range of outputs, as well as reviewing their effectiveness and impact with relevant stakeholders.
Tasks
General:
Support of the development and steering of implementation of communication and visibility plan for the programme.
Implement innovative and effective communication strategies and integrate strategies with the initiatives of the programme.
Develop concept and tools for internal and external communication
Coordinate photography and ensure visibility and visual documentation for all activities by the SEDIN programme.
Coordinate and ensure that programme communication outputs are published and distributed widely among stakeholders.
Support editing and proofreading of articles, publications and ensure consistency in design of publications.
Regular participation in communication meetings.
Provide relevant communication support to the programme components.
Manage vendor, consultants and ensure guidelines are adopted.
Maintains the list of possible suppliers from the printing sector, creation of websites, etc.
Support with the management and dissemination of all communication materials in the SEDIN programme and the EU co-funded project NICOP.
Coordinate the work of external service providers in the area of Communication. • Support with external knowledge and communication process i.e. Design, prepare, facilitate knowledge exchange and dissemination events.
Support knowledge management for communication related topics in the SEDIN programme and SEDEC cluster.
Required Qualifications, Competences and Experience
Qualifications:
Degree in Social Science, Mass Communication, Digital Marketing or a related field of studies
Professional Experience:
Not more than three years professional experience in a comparable position.
Knowledge and experience working on the European Union funded projects / programme will be an added advantage.
Other Knowledge, Additional Competences:
Work experience with international and donor organisations
Knowledge of various means of communication
Knowledge and skills managing complex, multi-faceted projects
Excellent writing and research skills, analytical skills, oral and written presentation skills, interpersonal skills and high integrity
Fluency in English (Writing and Speaking)
Excellent copy editing and writing skills
Ability to clearly communicate programme's activities and objectives to the public.
Knowledge of profile raising
Planning and excellent prioritisation
Tactical and polite
Sound knowledge of relationship building, relationship management and networking
Strong communications background and proficiency in communications tools and software, including but not limited to Microsoft Office tools, web design software specifically WordPress, working knowledge of Adobe tools, database management tools and information dissemination platforms
Highly motivated, energetic self-starter who can think and act self-sufficiently
Gender sensitive and inclusive
Proficiency in media and brand development.
Remuneration
According to GIZ salary scale for Band 3.
Application Closing Date
18th August, 2022.
Method of Application
Interested and qualified candidates should send their CV and Letter of Motivation as one document with complete contact details to: [email protected] using the Vacancy No. 073 as the subject of the email.
Note
GIZ is an equal opportunities employer committed to diversity. All qualified candidates, regardless of age, sex, ethnicity, race and religion are encouraged to apply.
Please note that only shortlisted candidates will be contacted.