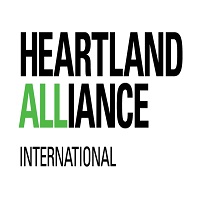 Heartland Alliance Ltd-Gte is a service-based human rights organization with a global heritage that is established under the laws of Nigeria with a mission to engage as a lead and global player with a variety of stakeholders to create access to opportunities and resources for comprehensive healthcare and social and economic justice for all.
Project: FHI360 GF National Aligned HIV/AIDS Initiative (NAHI) grant
Job Title: Focal Service Provider (FSP)
Reports to:  State Clinician
Location(s): Akwa-Ibom, Cross River, Lagos
Employment Type: Part Time (Volunteer)
Contract duration: 1 year  
Job Summary
The Focal Service Provider (FSP) will support the harm reduction gap-filling activities under the "Key Population Community HIV Services Action and Response" (KP-CARE 1). This position provides abridged HIV services to participants in hard-to-reach areas and around program sites where there is no OSS. The FSP in this position will provide harm reduction and complimentary HIV services to clients especially, PWIDs in hard-to-reach areas. He / She will make a referral to the One Stop Shop (OSS) for more specialized services, if necessary.
Essential Duties and Responsibilities
Provide evidence-based harm reduction services.
Assist and carry out appropriate screening processes including urine and saliva tests for PWIDs.
Undertake initial basic history taking and clinical assessments and record in electronic and paper-based case notes as required for PWIDs enrolled in the HALG harm reduction program.
Initiate, complete and follow up on referrals to specialist care.
Work with community and facility-level staff to provide harm reduction advice and assist clients in treatment to access other essential HALG services, as required.
Assess, review, and manage a caseload of patients who are prescribed opiate substitute medications.
Administer long-acting methadone/buprenorphine depots to PWIDs assessed as suitable in accordance with national guidelines and SOP.
Liaise with and take direction from other healthcare professionals, in order to provide the best possible specialist care for clients, ensuring coordination and continuity of care.
Produce relevant reports, action plans, and developmental service frameworks in response to the needs of the organization and managerial requests.
And any other duties that may be assigned.
Qualifications
To perform this job successfully, an individual must be able to perform each essential duty satisfactorily. The requirements listed below are representative of the knowledge, skill, and/or competency required. Reasonable accommodations may be made to enable individuals with disabilities to perform the essential functions.
Education and/or Experience:
A degree in Nursing and prior experience working in an NGO setting.
Good Networking in the Community of Coverage and good knowledge of the terrain.
Speaks Basic English and the language of the area covered.
Must uphold confidentiality and always offer HIV Care services.
Other Competencies:
Problem Solving Skills – Identifies and resolves problems in a timely manner, solving situations; uses reason even when dealing with emotional topics.
Interpersonal Skills – Focuses on solving conflict, not blaming; maintains confidentiality; listens to others without interrupting; keeps emotions under control; remains open to others' ideas and tries new things.
Oral Communication – Speaks clearly and persuasively in positive or negative situations; listens and gets clarification; Responds well to questions; demonstrates group presentation skills; speaks the local language of the people.
Written Communication – Writes clearly and informatively.
Teamwork – Balances team and individual responsibilities
Diversity – Shows respect and sensitivity for cultural differences; educates others on the value of diversity; promotes a harassment-free environment.
Ethics – Treats people with respect; keeps commitments; inspires the trust of others; works with integrity and ethics; upholds organizational values.
Judgment – Displays willingness to make decisions.
Motivation – Sets and achieves challenging goals; demonstrates persistence and overcomes obstacles.
Work Environment:
The employee will be required to co-locate with local partners usually in the same office.
The employee is required to travel regularly to often insecure and limited-resource environments.
**Note: Applicants should specify their desired location on the subject of application.  Any application without a specified location will not be considered**
Method of Application
Interested and qualified candidates should send their CV and Cover Letter to: [email protected] using the Job Title as the subject of the email.
Note: That this roles is contingent on award of the programme.