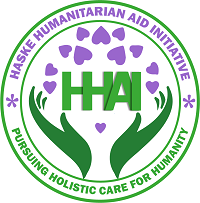 HASKE HUMANITARIAN AID INITIATIVE (HHAI) is a women and youth driven organization established in the year 2022, and since its establishment to date, the organization has striven to continuously interface and engage with key stakeholders at all level to support in addressing gaps in the health sector, improve nutrition indices, and women's agency, health, and socio-economic empowerment from the grassroot level which will provide an enabling environment and a robust healthy community. We strive for positive change in the way the community response to the health and socio-economic wellbeing of women, young adolescents, and children under 5 and to achieve an immediate and lasting change in their lives by providing the enabling environment. Across all our work, we pursue several core values: Honesty. Accountability, ambition, professionalism
JOB TITLE: FINANCE Officer / Assistant
Location: Adamawa and Bauchi State
Slots: 1
JOB DESCRIPTION
The FINANCE Assistant will be responsible for the implementation of HHAI FINANCE program in Adamawa and Bauchi.
The FINANCE   Assistant is in charge of keeping track of an organization's finances. S/he enters data into databases, prepare financial statements, process invoices and support other employees throughout accounting processes implemented by HHAI.
RESPONSIBILITIES
Update financial spreadsheets with daily transactions.
Prepare balance sheets.
Track and reconcile bank statements.
Process Tax payments.
Records accounts payable and receivable.
Provide administrative support during budget preparation.
Participate in quarterly and annual audits.
Support monthly payroll and keep organized records.
Any other duties that may be assigned from time by supervisor.
QUALIFICATION AND REQUIREMENTS
Degree in Accounting or Finance and other relevant professional qualification.
Minimum of 1 year programming experience with relevant working experience, desirable in Accounting
Proven ability to meet deadlines.
Excellent communication skills, calm and a good sense of humor.
Very good understanding of Accounting policies, strategies and programs.
Excellent inter-personal, communications and representative skills (written, oral, cross-cultural).
Strong knowledge of bookkeeping.
Detail oriented.
Proficiency in the use of computers (MS Word, Excel, Power Point Presentation).
Ability to speak English fluently, Hausa and other local languages desirable.
Application Closing Date
Wednesday 14th November, 2022.
How to Apply
Interested and qualified candidates should:  https://bit.ly/3FOQfjK  to apply online> OR send their Cover Letter and CV to "The Human Resources Officer (HHAI)" via: haskehumanitarianaidinitiative@gmail.com specifying the "Job Title" on the Subject of the mail.
Note
By submitting your Application for this position you agreed to HHAI ZERO Tolerance to:
Fraud
Sexual Harassment, Exploitation, Abuse and Child Abuse
Our employees enjoy a work culture that promotes diversity and inclusion.
Haske Humanitarian Aid Initiative (HHAI) provides Equal Employment Opportunities (EEO) to all employees and applicants for employment without regard to race, colour, religion, gender, national origin, age, disability or genetics.
This is an emergency recruitment and we are looking to fill this role as soon as possible.
Candidates available to start immediately are highly preferred.
Qualified women are strongly encouraged to apply.
Kindly attach additional certificates that support or address the requirements listed for the position in one PDF format, Cover Letter and CV together in one Word format.
Only shortlisted candidates will be contacted for an interview.