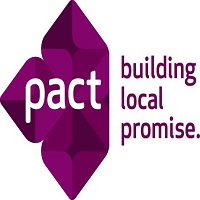 Pact works across multiple sectors and actors to combat corruption, promote democracy and improve health. Our funding partners run the gamut from the U.S. Government to private foundations to corporations, and our on-the-ground partners include Nigerian ministries and civil society organizations focused on advocacy, democracy and health.
Experience 7 years
Location Abuja
Supervisor:    Project Director -ACHIEVE
At the heart of Pact is the promise of a better tomorrow. A nonprofit international development organization founded in 1971, Pact works on the ground in nearly 40 countries to improve the lives of those who are challenged by poverty and marginalization. We serve these communities because we envision a world where everyone owns their future. To do this, we build systemic solutions in partnership with local organizations, businesses, and governments that create sustainable and resilient communities where those we serve are heard, capable, and vibrant. Pact is a recognized global leader in international development. Our staff have a range of expertise in areas including public health, capacity development, governance and civil society, natural resource management, poverty, fragile states, monitoring and evaluation, small-scale and artisanal mining, microfinance and more. This expertise is combined in Pact's unique integrated approach, which focuses on systemic changes needed to improve people's lives.
Position Summary:
The Finance and Operations Manager will be responsible for providing Financial Management and Operations leadership for ACHIEVE-Nigeria Project and other Pact Nigeria projects. S/He will provide administrative, operations, and financial management support across all Pact Nigeria projects.  S/He will also provide training, coaching, and mentoring for ACHIEVE local partners implementing the ICHSSA awards to enable them to manage USAID funding in compliance with rules and regulations.
Key Responsibilities
Ensure timely and accurate submission of Pact Nigeria monthly financial reports to Headquarters
Ensure proper adherence to all payment process that ensures transparency and good controls
Serve as the compliance lead for the country office by ensuring every staff, consultant and vendor adheres strictly to the organizational policies, Donor rules and regulations and the Local laws in the country
Ensure proper maintenance and archiving of accounting documents
Ensure availability of funds for project work by constantly liaising with HQ on three-month cash flow forecast and coordinating with Country Representative and program managers
Ensure disbursements of funds in accordance with established timeframes and procedures
Ensure implementation of internal control and adherence to financial policies and procedures
Serve as systems administrator and ensures smooth operations of the department's accounting system and general office operations
Ensure prompt review of the project status reports (PSR) for all Pact Nigeria Projects and preparation budget vs actual analysis and updating the ACHIEVE workbook
Lead in generating the USAID Expenditures and HRH Report on a quarterly and annual basis, as required, and ensure the timely tracking of cost share and reporting to HQ for review before onward transmission to USAID
Ensure budget tracking and monitoring, working with Project Directors
Supervise and reviews procurements in the country office and taking initiative to solve problems in accordance with policies and program objectives, local laws, and Donor policies
Generate such financial report documents and reports as necessary for appropriate financial reports by senior management at the country and HQ levels
Review and reconcile payroll ensuring that payroll deductions are in line with the government legislation and salaries are computed in line with laid down policies and are remitted within the required due date by the Local Laws
Work closely with DC office in ensuring that all reconciliations including bank and balance sheet reconciliations are resolved as at when due to ensure we have true and explainable balances
Work with Project Leadership and program staff to review budgets for all projects ensuring that projections are reasonable
Support the country office business development effort by support the development of proposal budget and budget narratives that meets Donor's requirement
Support the Capacity Development effort of the Pact team to the ICHSSA, MCGL and SHELL PUDS partners by continuous mentoring and coaching in ensuring their capacity is strengthened to continue to manage USAID and other donor funding
Manage the country office human resources department by ensuring issues relating to staff are resolved in a timely manner
Manage the Country Office Inventories by ensuring periodic stock counts are done the biannual fixed asset report is done in a timely manager and uploaded in promised for approval
Any other duties that may be assigned by the Project Director and during the period of the contract.
Qualifications:
A minimum of bachelor's degree in accounting, Social Sciences, Business, or another relevant field.
Chartered accountant qualifications a plus.
Must also have at least 7 years of experience in Finance, Grant Management, Compliance and Operations with an international NGO
Demonstrated experience with automated accounting systems and good knowledge of internal control systems and financial audit processes.
Experience with the development of proposal budget in line with donor rules and regulations
Must have some knowledge in accounting software's like Microsoft Dynamics Navision.
Managed accounting procedures for multiple donor or project accounts.
Excellent communication, writing, and organizational skills.
Team player with the ability to multi-task.
Proficiency in MSWord, Excel, and PowerPoint.
Method of Application
Interested candidates who meet the above qualifications should submit their resume and cover letter to [email protected]
Please submit all attachments in PDF with "Finance and Operations Manager" in the subject line of your email. Applications will be reviewed on a rolling basis, and only shortlisted candidates will be contacted. The deadline for submission of applications is Friday 4th November 2022.
Pact is an equal opportunity employer and does not discriminate in its selection and employment practices on the basis of race, color, religion, sex, national origin, political affiliation, sexual orientation, gender identity, marital status, disability, genetic information, age, membership in an employee organization, or other non-merit factors.