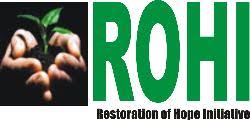 Restoration of Hope Initiative (ROHI) – Since the insurgency began in 2009, many lives were lost and properties worth billions of Naira destroyed. There has been a lot of migration of people from one location to another location which is considered relatively peaceful, as a result many are displaced and homeless and many international organizations are bringing relief services in the areas of Water Sanitation and Hygiene (WASH), Food Security and Livelihood (FSL), Education, Health and other sectors as listed out in the Humanitarian Response Plan. Some of the local Government Areas (LGA) are relatively peaceful and there is a high population density with men and women who are suffering from poverty, and children who are vulnerable to illiteracy.
We are recruiting to fill the position below:
Job Title: Communications Intern
Locations: Maiduguri, Borno
Employment Type: Full time
Duration: 3 months
Slot: 2
Background
ROHI has helped over 200,000 children in the Northeast to have access to inclusive quality education by establishing infrastructure and boosting the capacity of educational institutions since its inception in 2012.
ROHI specializes in education programming, as well as development programming and humanitarian assistance.
The North East crisis has increased the number of individuals forced to relocate, hampered access to educational opportunities, heightened security concerns, and demanded the provision of life-saving services.
Duties and Responsibilities
Provide support for the development and production of communication products and digital content to grow ROHI's presence and engagement, particularly on social media.
Assist with sourcing and drafting appropriate, relevant content from programmes for ROHI's social media channels.
Assist in developing multimedia content, such as graphics, photography, and audio/video editing.
Support the development of website content by liaising with programme teams (including editing and proofreading) and uploading web content.
Edit content and support the production of the monthly internal newsletter.
Assist in the creation and conceptualization of various forms of communications plans and products
Provide MS-word skills to support in writings and capturing good videos and pictures using a sophisticated camera.
Qualification and Requirements
B.Sc / HND in Journalism, Communications, Media Studies, Marketing, Public and Business Administration or other relevant fields.
Be familiar with standard software applications such as MS Office (Word, Excel, PowerPoint) and graphic design platforms (Adobe Photoshop, Corel Draw for example).
Working knowledge of video editing software is desirable.
Languages:
Being fluent in English is strongly desired.
Application Closing Date
10th November, 2022.
Method of Application
Interested and qualified candidates should send their Cover Letter and CV as a single document addressed to the Human Resource Officer via: info@restorationofhopeinitiative.org using the Job Title as the subject of the email.