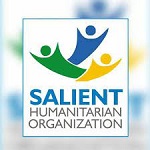 Salient Humanitarian Organization (SHO) is a non-profit and Non-Governmental Organization (NGO), Registered in Nigeria with Corporate affairs commission and other government agencies. Our objective is to alleviate poverty within the humanitarian sphere through food security, women empowerment through livelihood programs. Our active humanitarian intervention programs include but are not limited to providing Shelter/CCCM/NFI, warehousing & Logistics, health care and Protection (Monitoring, Referrals, GBV, SGBV, Child protection RFL referrals).
We are recruiting to fill the position below:
Job Title: CCCM Protection Officer
Location: Maiduguri, Borno
Employment Type: Full-time
Starting date: July, 2022
Duration of contract: 10 Months (Extendable)
Reporting to: GBV/Protection Manager
General context of the Job/Project
The Protection Officer Will Support SHO, national institutions & vulnerability assessment to respond adequately to protection issues and case management like SGBV, related to the THRIVE Project and basic health services to Beneficiaries:
The Protection officer is responsible for the day-to-day activities of the protection component of the project, including conducting data collection, meetings and mobilizing key project stakeholders, developing protection related materials for community trainings and facilitate trainings, among others.
He/she will organize focus groups to support him/her in the accomplishment of her daily task and duties.
He/She will be accountable for the smooth operation of the protection component of the THRIVE project, meeting project timelines and targets, in addition to internal capacity building trainings.
He/ she will be responsible for ensuring protection mainstreaming standards among the targeted areas and to monitor the global protection risks in order to provide mitigation solutions.
Job Description
Provide technical direction and leadership, ensuring SHO's programmatic expertise in GBV and Protection is translated to the THRIVE Project.
Establish key internal and external contacts, with an understanding of the main issues related to Protection and Gender Based Violence dynamics and trends in the affected population
Provide standard technical guidelines, help develop mechanisms, identify gaps and provide capacity building of SHO staff
Influence policy and practice through analysis and advocacy in coordination with key stakeholders
Identify learning and training opportunities for SHO staff and partners, and work as a mentor and role model for less experienced staff members.
Carry out daily monitoring visits, focus group discussions, participatory assessments, key informant interviews in accordance with SHO's information collection and management plans and standards, ensuring appropriate treatment of sensitive information;
Ensure that protection mainstreaming is implemented by all agencies and in the communities of implementation.
Assess protection issues captured or identified during daily activities and make appropriate referrals for services to humanitarian or other actors as per the referral pathway or best practices;
Identify cases in need of urgent response and directly follow-up/accompany affected individuals to services providers when needed to ensure access to services;
Work with supervisor to create weekly work-plans and prioritization of tasks;
Ensure targets are met under the approved work plans
Ensure proper documentation and secure storage of any protection data collected (hard and soft copies);
Complete daily, weekly and monthly reporting on findings.
Foster and maintain excellent working relationships with all stake-holders, and participate in daily coordination with humanitarian and all other local and international actors;
Provide technical and programmatic support to the community mobilizers in the field on a day to day basis
Provide technical and programmatic leadership to community-based mechanisms
Work with community-based structures to identify protection problems that cannot be resolved at community level or by existing services and assist community to come to solutions
Liaise closely with protection actors in the field and other humanitarian partners to ensure an understanding of the overall issues; an understanding that shall be used to guide weekly work plans
Take a leading role in setting up the community center-liaising with the community.
Perform other duties as assigned by supervisor.
Preferred Qualification & Experience
National Diploma, HND, University Degree and a higher qualification in Law, Social Work, Psychology, Social Sciences, or any other relevant studies.
Minimum of 2 year of relevant experience in international and/or NNGO; ideally involved in the direct implementation of field level humanitarian assistance to refugees, IDPs or host communities.
Promote and share ideas for improvement of the support function
Experience working for NGOs and/ or in Camp setting is a must.
Experience Working in the Northeast Nigeria an added advantage.
Positive attitude and a willingness to learn
Written and spoken fluency in English and any of Hausa or Kanuri a must; additional fluency in other local languages an added advantage.
Ability and Willingness to follow instructions.
Essential knowledge and skills:
Extensive knowledge of Nigerian displacement context.
Excellent interpersonal and team-playing skills.
Highly flexible, with the ability to use initiative.
Ability to work in a multi-cultural environment.
Commitment to humanitarian principles and values.
Understanding of gender, protection and human rights.
Commitment to promoting gender equality.
Brief Conditions
Salient reserves the right to close the application before deadline, if the required number of candidates is attained.
Candidates will be responsible for his/her own travel, accommodation and feeding during the recruitment process;
Application Closing Date
2th August, 2022.
Method of Application
Interested and qualified candidates should please submit their Applications (Letter of motivation and CV in a single PDF file) to: [email protected] using the Job Title as subject of the e-mail.
Or
Submit hard copies to:
The HR,
Salient Humanitarian Organization,
Behind NTA Quarters, Off Damboa Road,
Old GRA, Maiduguri,
Borno State – Nigeria.
Note
Please clearly indicate the Job position on the envelope.
Only short-listed candidates will be contacted.