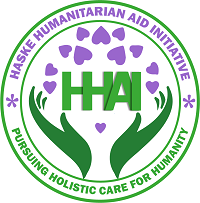 HASKE HUMANITARIAN AID INITIATIVE (HHAI) is a women and youth driven organization established in the year 2022, and since its establishment to date, the organization has striven to continuously interface and engage with key stakeholders at all level to support in addressing gaps in the health sector, improve nutrition indices, and women's agency, health, and socio-economic empowerment from the grassroot level which will provide an enabling environment and a robust healthy community. We strive for positive change in the way the community response to the health and socio-economic wellbeing of women, young adolescents, and children under 5 and to achieve an immediate and lasting change in their lives by providing the enabling environment. Across all our work, we pursue several core values: Honesty. Accountability, ambition, professionalism
Job Title: Advocacy & Community Mobilization Officer
Location: Adamawa and Bauchi State
Job Description
We are recruiting to fill the position of Advocacy & Community Mobilization Officers to join our operations team in promoting leadership, and civic & political rights of women
Responsibilities
The successful candidates will work with the project manager in designing and launching online and offline advocacy campaigns and awareness-raising on our campaign, community sensitization, stakeholder engagement, project implementation, monitoring & reporting of the project,
Carry out campaigns to improve women's knowledge of their political & civic rights, particularly those in the vulnerable and displacement settings
Skills / Education / Experience
A Diploma or Degree in Political Science, Law, Sociology, or any related field from a reputable institution
At least 1 year of work experience.
Good written and oral communication and ICT skills.
Requirements:
Interested candidates should possess good working knowledge in the area of written and oral communication, leadership, inclusive governance, policy advocacy, community sensitization, and awareness raising
Experience in project monitoring & evaluation with proficiency in data analysis, ICT, working knowledge of emails, Canva. Ms word, excel, PowerPoint, and internet-based applications such as Facebook, Twitter, Instagram, and google will be highly prioritized
The ideal candidate must reside within the Sango Ota environs or be willing to relocate and must have experience in Advocacy, Monitoring & Evaluation, Community mobilization as well as ICT skills, and internet-based applications.
METHOD OF APPLICATION
Interested and qualified candidates should send : <Click https://bit.ly/3FOQfjK to apply online> OR send their CV and Cover Letter as a single PDF document to haskehumanitarianaidinitiative@gmail.com using the job Title as the subject of the mail.
NOTE:
HHAI is an equal opportunity employer, committed to diversity as such,
women are strongly encouraged to apply
Please note that only shortlisted candidate will be contacted